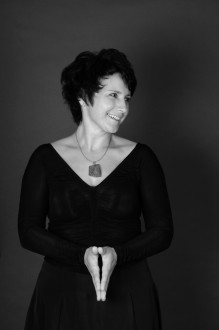 Photo: Viktor Debeljak

Branka Potočnik Krajnik (1971) graduated in choral conducting at the University of Ljubljana, Academy of music. She focused on vocal ensembles from her age of 15 when she started conducting the parish children choir of Primskovo, Kranj. In the following year, she joined the "Drumlca" Slovenian vocal folk quintet where she sang the soprano voice and lead the ensemble for 13 years. "Drumlca" attended numerous international folk festivals in almost all the European countries and in Canada individually or in cooperation with the Sava Kranj folklore group. During her study she founded De profundis chamber choir, Kranj and took the conductor place of the Simon Jenko Kranj primary school's youth choir. After graduation she started teaching music at the primary school and successfully performed with her youth choir both at home and abroad. She was a member of the convergence pedagogy project and the curriculum committee for the public school's music course renewal. Since 1998 she has been lecturing the vocal technique, choral singing and choral conducting at the University of Ljubljana, Faculty of education. She is a valuable lecturer at the seminars for music pedagogues and choral conductors, she is a member of the choral commissions at the choral meetings and competitions, and occasionally she also works as a guest choral conductress.
Her most remarkable results with De profundis chamber choir are the excellent technical performance, selectivity and originality of the repertoire, and persuasive interpretation. The choir performs compositions from the middle Ages to contemporary music and avantgarde. Furthermore, she frequently adds to the choir repertoire music pieces that are less known for Slovene public or even première performances of the works. Most notably, the choir performed 30 novel scores by Slovenian composers, many of them especially written on her initiative.
Branka Potočnik Krajnik along with singers of different generations is a winner of numerous elite awards and special achievements of the Slovenian and international choral competitions. She is also a member of the European Choral Association Europa Cantat.